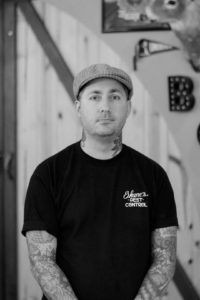 Jonathan Leitzel grew up in the Lebanon County area and attended Millersville University where he studied art education. After spending some time living in Tokyo and teaching English, he came home wanting to follow a different career path. He was constantly plagued with the frustration of not being satisfied with haircuts he was receiving. No one used a straight razor, or felt comfortable using scissors, as opposed to clippers.  He longed for the precision, quality and expertise that seemed to be a thing of the past. He decided to take charge, and attended a local barber school and hone in on the lost art of straight razor shaving and traditional cuts. His mixed clientele has allowed him to become experienced with all hair types and styles.  Previously, Jon has gained experience in multiple barber shops, in addition to working for The Art of Shaving.
Jonathan loves downtown Lancaster, so it made perfect sense to setup shop on Orange Street.  In his free time he enjoys spending time with his wife The Pink Lady, his daughter Mia and their three pets, as well as live music and collecting tattoos.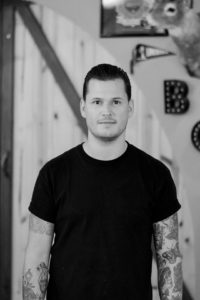 Patrick Hatt, a Lancaster County native, happened to stumble upon his love for barbering.  After attending Harrisburg Area Community College, he decided to take a break from school and take on music full time.  He spent the next couple of years in and out of bands, writing, touring and working as a part-time server at a local French cafe.  Realizing he couldn't maintain this lifestyle forever, he started looking into different trades. When he discovered the art of barbering, he immediately found his passion. Deeply committed to quality and tradition, Patrick has studied and honed his skills while attending American Beauty Academy. He specializes in straight razor shaving and haircuts for men varying from traditional pompadours and high n' tights to today's modern styles.
With a love for Lancaster and a similar vision as Jon, it only made sense for him to join The Black Comb. When not cutting hair, Pat enjoys writing music, drinking beer, getting tattooed and spending time with his border collie Guthrie.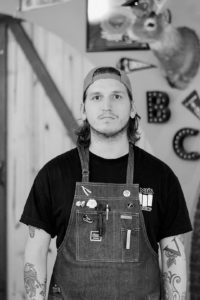 Drew Rush was born and raised in Chester County. After moving to Lancaster, Drew has grown to love the city. He is passionate about music, having toured in a band for nearly three years. Through music he developed an interest in timeless style, and after his band broke up, he pursued a career in Barbering. Aiming to cater his skills to more than just one demographic, Drew has focused on versatility while maintaining traditional barbering techniques. He attended a local barber school in Lancaster City, and later finished his schooling as an apprentice at The Black Comb.
When Drew is not cutting hair, he enjoys live music, getting tattooed, practicing lines for his upcoming role in Star Wars, and hanging out with his wife, Amanda and their bulldog, Harley.
Nate Storck is originally from the Allentown/Emmaus area.   He moved to Lancaster in 2000 to finish up his design degree at Millersville University, and after graduating in 2003 he spent 10 years in and out of various design jobs.  In 2013, he began working for the Commonwealth of PA at the unemployment office, and it didn't take long for him to realize that the cubical life was not meant for him.  He desired something more rewarding where he could go home at the end of the day and felt good about what he was doing. Barbering had always been something he kicked around in the back of his mind, and after he found himself laid off, he immediately signed up for barber school and never looked back. He feel in love with the trade overnight and prides himself in providing an enjoyable experience as well as a solid haircut.
When he's not cutting heads you can usually find him drinking some beers with his wife Kate, or hanging out with their cats Azi and Mona.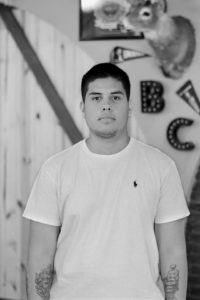 Santiago Herrera grew up in Sinking Spring, PA where he found a lack of shops that offered a traditional haircut experience.  After hearing about the Black Comb from a friend, it only took one haircut to convince him it was worth the drive.  After getting his haircut at the shop for two years, he was inspired to pursue a career in barbering.
When he's not in the shop, you can find him racing around in his STI and playing video games.  Mention these hot topics and you may actually get him to talk while he's cutting your hair.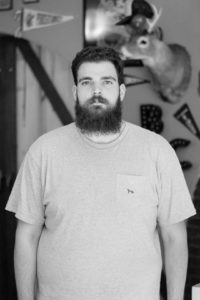 Cameron Arabi aka "Cam the Barber Man" was born and raised in York county and started cutting his own hair at age 15. Playing in bands, he was particular about his hairstyle. After years of experimenting and cutting his own hair every other week he became comfortable with the clippers and staring cutting his bothers hair as well. He graduated high school and couldn't find a passion or interest in anything quick enough for college in the fall. He signed up for general education and a week before classes would start, not being content with his decision,  he researched barbering and fell in love with the idea. That same week he started school at Barber Styling Institute to follow his dreams of cutting hair and never looked back. He finds great joy in the trade and is always working his hardest to better his craft.
When not behind the chair, Cameron enjoys spending time with his girlfriend Emily, drinking La Croix, playing music, Subaru things, hiking, tennis and quoting cheesy movies.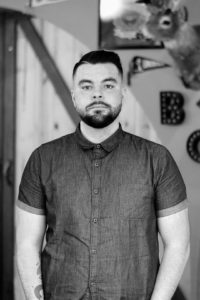 Chris Black – Dynamic Services Coordinator has been a Lancaster county native his entire life. He attended Millersville University and received a degree in Secondary Education, and graduated Cum Laude. In his free time he is a full time teacher at a local high school here in Lancaster County, where he teaches Social Studies and Business courses. Chris was a customer of the Black Comb for years before he convinced the guys to hire him as The Dynamic Services Coordinator. Once on board, Chris excelled in the art of customer satisfaction, cleaning up hair, shop talk, cracking well-timed jokes, and his true passion in life: giving the best shoe shines in Lancaster City. Chris's shine box has been a part of his family since the Eisenhower administration, and he takes great pride in breathing new life into your beat up kicks.
When not shining shoes Chris enjoys reading books about the American Civil War, playing Xbox, watching Professional Wrestling, exercising, and writing his own Broadway Musical: "Have Shoes, Will Shine," starring himself.  Oh, also in the not shining shoes part, spending time with his wife, Colleen.